Who would see a Nurse Practitioner (NP)?
If you do not currently have a health care provider (physician or a nurse practitioner), and you would like to become a patient of our clinic, simply fill out an application here, or pick up an application at our clinic in North Muskoka.
What is a Nurse Practitioner (NP)?
Nurse Practitioners (NP's) have advanced education which prepares them to deliver a new role with patients. They are able to assess, diagnose, monitor and treat a wide range of health problems. They also work to keep people well by consulting and collaborating with physicians and other health care professionals to meet the needs of the patient population.
What is a NPLC?
In 2007, the Ministry of Health and Long-Term Care announced the creation of 25 Nurse Practitioner-Led Clinics. The clinics were targeted to be fully operational by the end of 2012. To date, the 25 NPLCs are in various stages of development in the following communities: Barrie, Belle River Township of Lakeshore, Belleville, Capreol, Sudbury, Essex, French River, Huntsville, Ingersoll, Kitchener, London, Niagara Falls, North Bay, Oro Station, Oshawa, Peterborough, Sarnia, Sault Ste Marie, Scarborough, South Glengarry, Smith Falls, Sutton, Thessalon, Thunder Bay and Toronto.
Nurse Practitioner-Led Clinics are a new primary health care delivery model in which Nurse Practitioners are the lead providers of primary health care. Through a collaborative practice approach which includes Registered Nurses, Registered Practical Nurses, collaborating family physicians, and other health care professionals, nurse practitioners provide comprehensive, accessible, and coordinated family health care services. Nurse Practitioner-Led Clinics improve the quality of care through enhanced health promotion, disease prevention and chronic disease management, as well as improve care co-ordination and navigation of the health care system at the local level.
Mission
To provide high quality client-centred care in an innovative and connected way.
Vision
Enhancing Health and Wellness Together.
Guiding Principles & Values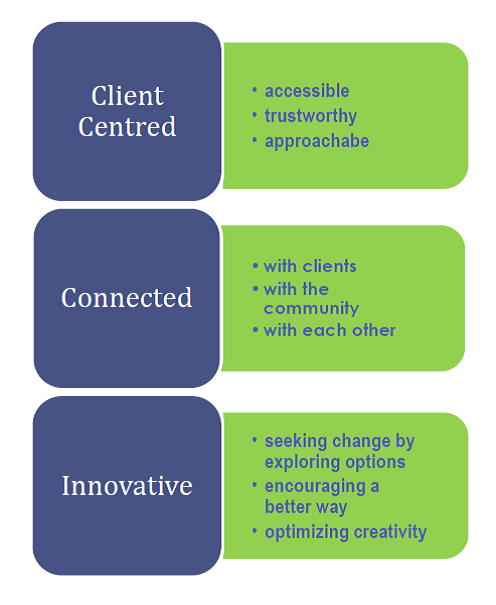 Nurse practitioners (NPs), registered nurses, the public and stakeholder groups have demonstrated great enthusiasm regarding Nurse Practitioner-Led Clinics (NPLCs) and have asked many questions about the model. The Registered Nurses Association of Ontario and Nurse Practitioner Association of Ontario are pleased to provide the following update. 
What is a nurse practitioner led clinic?
NPLCs are a new, innovative model for delivery of comprehensive primary health care in Ontario and Canada. The model is designed to improve access to care for the thousands of individuals and families who do not currently have a primary health-care provider. One of the unique aspects of the model is the incorporation of nursing leadership within an interprofessional team.
What services do NPLCs provide to patients?
Patients who register with a NPLC will have access to comprehensive primary health care. Clinics provide care when patients are ill as well as a range of health services that help individuals and families maintain or improve their overall health. Typical of other primary care delivery models programs and services include annual physicals, episodic illness care, falls prevention programs for older persons, immunizations, smoking cessation, injury prevention and monitoring and management of chronic diseases such as diabetes, arthritis, asthma, heart disease and mental health conditions.
Who provides care to patients?
Interprofessional teams provide care to patients. Patients are registered with the clinic and not to an individual health-care provider. Core primary health care services are provided by a nurse practitioner. In addition to nurse practitioners, other professionals on the team may include physicians, registered nurses, social workers, pharmacists, dietitians, mental health workers, occupational therapists, physiotherapists or others. Depending on individual needs, patients have access to care from any member of the team. The design of each team is based on community and patient requirements. Referrals to medical specialists are sought as needed.
How do these clinics fit with government priorities for primary health care?
NPLCs are a key component of the Ministry of Health and Long Term Cares new family health-care strategy. Nurse practitioner led clinics are designed to improve access to primary health care and reduce the number of patients without a health-care provider.
How is a Nurse Practitioner-Led Clinic different from other models of care?
NPLCs provide the same comprehensive family health-care services as other family practice models. The key difference is that nurse practitioner leadership at all levels of the organization (e.g., governance, clinical practice and day to day operations) is embedded into the structure of the organization and patient care. This brings the comprehensive perspective of nurses, especially the focus on wellbeing, health promotion and disease prevention, to the day-to-day delivery of care for patients. In this model, nurse practitioners and registered nurses work to their full scope of practice.
Our Interprofessional Team
Our interprofessional team provides care to our patients. To help with continuity of care, our patients generally see the same Nurse Practitioner when seen at the clinic. Our team also includes Registered Nurses, a Social Worker, Pharmacist, Dietician and a Consulting Physician. Depending on individual needs, patients have access to care from any member of the team. Referrals to medical specialists are sought as needed. 
Board Of Directors
Chair: Jennifer Fournier, NP
Treasurer: Peter Schwarzl
Secretary: Claudia Mariano, NP
Director: Lauren Power
Director: Teresa Wetselaar, NP
Director: Kara Wanoth
Director: Aimee McAnsh, NP
The North Muskoka Nurse Practitioner-Led Clinic is a not-for-profit corporation funded by the Ministry of Health (MOH). A board of volunteer directors is responsible for overseeing the activities of the corporation, ensuring fiscal responsibility, setting strategic direction, and ensuring accountability to the public and to the MOHLTC.